Valentine's Day is just a short week away. I confess, making cards for this occasion can be challenging - capturing just the right sentiment, whether you plan to send a card to only one special person or all those near and dear to you, is a bit of a balancing act. But I hope that among our growing selection of cards you will find the right one.
Two new cards have been recently added. The first card, Sloppy Kiss, is inspired by early Valentine's cards that frequently featured flowers such as Lily of the Valley and pansies for symbolic reasons. The pups, Spriggs and Chica, take center stage in this production again after rave reviews for their performance in other cards.
Sloppy Kiss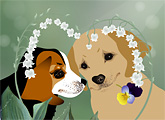 Sometimes the simplest things in life really are the best ... especially if you share them with someone dear to you. The card "Life in Pink" includes a lovely tune called "Londonderry Air" which has been used with a variety of different song lyrics, such as Katherine Tynan Hinkson's "Irish Love Song".
Life in Pink