With just a few days to go before Halloween we have added a new card to the site called "Halloween Frolics".
I love vintage greetings cards and Halloween cards are perhaps my favorite of all because unlike the gory cards that are more common now, vintage Halloween cards have a certain innocence to them. Despite this, lots of people used to send them to ward of any bad luck and wish for a bright future for the person on the receiving end. After all, you never know, maybe there is such a thing as ghosts ...
Thus inspired, the little witch in my newest card is meant to bring some of the nostalgia and magic of Halloween alive again ... so better make sure you send your wishes for a bright future to all of your friends and loved ones of all ages.
Halloween Frolics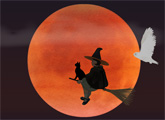 Wishing you are safe and fun Halloween!