New Christmas eCard - Jingle Bells
We have added another new card called "Jingle Bells" featuring a horse drawn sled dashing through a winter wonderland - all handpainted in watercolor in great detail - a classical card centered around the joy of preparing for the holidays with your loved ones.
Jingle Bells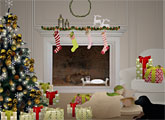 But before Tim and I can get around to the family preparations with the boys, we still have a bit of work to do to bring you several more cards for your New Year celebrations.
Merry Christmas!