New Father's Day 2008 eCard
This coming Sunday, June 15th is celebrated as Father's Day across more than fifty countries worldwide, and this year it has been 100 years since Father's Day was first celebrated in the US.
We have of course been hard at work on the latest addition to the site for this occasion, featuring once again "Woody" - you may remember him from the card titled "Best Friends". I wanted to capture the contributions Father's make in our lives while keeping the card lighthearted, a little bit clever and most importantly something sons, daughters and just about anyone would want to send to their own father - and all the other great fathers they know.
Good Time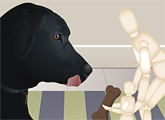 Happy Father's Day!
Labels: father's day