Like most women I confess I love flowers - so much so I would have a hard time picking a favorite flower. When I was about six I 'surprised' my grandmother with a sand cake I had decorated with loads and loads of flowers I picked from her garden. It is clear from the photograph taken on that occasion that she had to try really hard to smile although I couldn't tell then. So it is no surprise that the flowers steal the show in my two newest cards both intended for Valentine's Day, although they are suitable for many other occasions as well.
The first card, "Enchanted", is a mixed media project featuring hand painted tulips set against a collage background. It can be used for anyone to send a Valentines greeting but also for all other general occasions.
Enchanted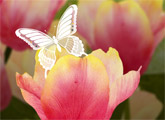 Mandarin Ducks share the stage with the colorful display of wisteria in full bloom in the second card, which has a slightly humorous twist to it. Although it is intended for Valentines it is also suitable for many other occasions.
Mandarin Ducks