I really enjoyed working on the latest birthday ecard that has been added to the site, "Le Patisserie". The slightly over the top characters make a comical compliment to a very visually tempting card that is perfect for birthdays, but also suited for other occasions:
La Patisserie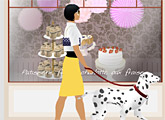 If you are anything like me and your heart skips a beat when you enter a pastry shop, then you will love this card even if the cake is for someone else. Besides virtual whipped cream has no calories at all, so go ahead and indulge!
In addition I am working on the release of a card for St.Patrick's day, which should be out very soon!