We have added two new cards to our selection for U.S. independence day. The first card, "Liberty" features Ginger, a golden Labrador, who unwittingly creates quite the piece of art out of sand on the beach. Despite a funny twist, it ends on a touching note.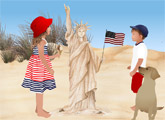 Both cards are set to two very different renditions of "America the Beautiful". The second card by the same title as the song includes a wonderful jazzy swing rendition to get you right in a big Apple sort of mood. This card is an adaption of the card "Celestial" released last year for New Year, updated to capture just a few of the things that must have inspired the title "America the Beautiful".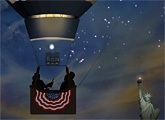 In addition to these two new cards there are a number of
other cards
that were created for July 4th celebrations, below are a few. The card "Hope" is an uplifting alternative for those looking for a message of peace that is still highly suitable for celebrating July 4th and features one of my favorite musical pieces by composer Respighi.