I am delighted to announce our 60th card, called "Hot off the Press", which is suitable for many different occasions. With wonderfully detailed hand painted watercolors and animation, this card is set in sepia tones and lets you print your very own "headline" and special message on the front page of a newspaper. You can even include a photo with the card - black and white photos work especially well - to round out the effect and making a big front page splash.
Hot off the Press
We are sorry that the link of the ecard "You've Got Mail" in our last newsletter went to a different card. Below is the correct one!
You've Got Mail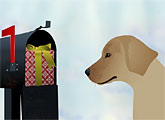 Please continue to send us your feedback and comments. You can also join our
Facebook fan page
where you can interact with Tim and myself and of course also other members.
Do you have a website or blog? Link to us! Just copy and paste this following HTML code: <a href="http://www.ojolie.com">Ojolie eCards</a>
or visit our
link to us
page for banner or card of the month. Thank you for your support.