We have added a new card titled "Ave Maria" to our growing selection of ecards. For some time now we have wanted to set a card to the goose-bump inducing vocal rendition of Schubert's piece by the same title.
So we set out to design a card that would do the music justice; we settled on painting a reproduction of Lewis C. Tiffany's glass stained windows, which took several weeks to complete in watercolor and ink.
Tiffany's windows are renowned for their vibrant color, beautifully detailed art nouveau designs and innovative glass making techniques. The card includes a short section about the art work in the card (link found at the end of the card).
Although the card is mainly intended for announcing the birth of a new baby, congratulating new parents, baptisms and christenings, it is also suitable for other spiritual occasions. We plan to release an alternate version of the card for Christmas later in the year as well.
Ave Maria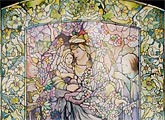 Let us know how you like this card!