Our newest card for Halloween is titled "Ghostly Friends". It is great for sending spooky wishes to friends and family of all ages.
Ghostly Friends
A frightfully cute little ghost shares his treats with his friends in this card that is sure to delight old and young alike.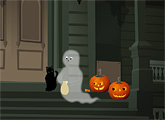 Here is our other Halloween card.
Halloween Frolics
With a dash of magic, a sprinkling of make believe and some ominous music this production will put you right in the mood for some frolics of your own on Halloween. Made to look vintage - but see for yourself!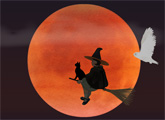 Tip: When you create a card, you can check off the option boxes to be notified when the card is sent or when the recipient views this card.
Happy Halloween!
P.S. Do you have a website or blog? Link to us! Visit our
link to us
page for links, banners or card of the month. Thank you for your support.