As promised we have added two more cards to our site for the holidays and three more will follow in the coming days. These cards really are the result of months of hard work and I am thrilled to finally be sharing them with you.
"Bright & Merry" was created for anyone spending the holidays in warmer climates or the southern hemisphere - or perhaps just wishes they would! It is set to a great bossa nova version of "Jingle Bells" on a beach and ... well, have a look for yourself to see the rest.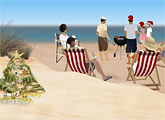 "Hanukkah" is our first card for the festival of lights. I am fond of the music I chose for it, which moved me. I think it perfectly sets the tone for a joyous celebration.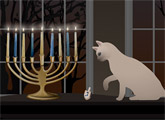 Let me know what you think!