We have a number of cards in the works and have just finished adding a new one to the site called "You've got mail"
birthday ecard
.
Although this is an ecard, the title refers to the "snail mail" variety and the anticipation when hoping for something in the mail. The card is perfect for birthdays and other celebratory occasions, especially in the event you just happened to forget to send something by snail mail in time ;) It features Ginger, the golden lab, a pair of busy robins, a stork, a kitten and yes, of course, a snail.
You've got mail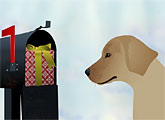 Check out our
other birthday ecards
!
Tip:
Most of our cards allow you to user your own greetings of your choice. When you are in the card creation page, click the "My custom greeting" radio button and type in your greeting. Click the "review this card" button to review your card greeting and message.