With many parts of the United States, Europe and the rest of the northern hemisphere receiving an unusual amount of snow, I hope you will enjoy the three new cards we have added to our site. Although it may not feel like it, spring is not far off, and so I wanted this year's Valentine cards to be full of the positive and hopeful feeling that spring symbolizes to me.
The first card, "Flutter", features apple blossoms, songbirds and a full bouquet of butterflies. The birds and many of the butterflies in this card were conjured up from my own imagination, so no need to ask what kind they are :)
Flutter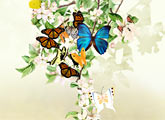 "Al Fresco" opens with a fresh green beech bud opening to reveal a perfect setting for a picnic for two. Love and spring are in the air - enough said.
Al Fresco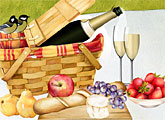 "Sidewalk Cafe" is more urban, set at a sidewalk cafe and to "La Vie en Rose" performed by real French street musicians.
Sidewalk Cafe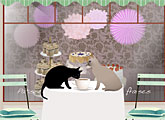 All three cards were created with Valentine Day in mind, but are also well suited for many other occasions. We wanted the cards to be both suitable for sending to friends and relatives but also for that special someone in your life.
Best wishes for a Happy Valentine Day!