We have added a new card to the site called "Connemara" in time for St. Patrick's Day. Use it to send your "truly green" greetings or use the card for many other occasions.
As so often I was inspired by the beauty of nature and really lost myself in the process of painting the green Irish hills that form the backdrop of this card. But the best part of the process is seeing the painting come alive when you finally put it all together with animation and music - in this case a lovely Irish piece, of course, and a boy and his Connemara pony.
Connemara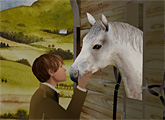 Here are
other cards
for St. Patrick's Day.
Enjoy and have a very happy St. Patrick's Day!