Tadaa Surprise Birthday eCard
We have added a new card to our site that is perfect for Birthdays, Anniversaries and other celebratory events called "Tadaa!". This card was inspired by Star, a real little kitten we know who cheekily takes any chance to savor our pastries or anything else whenever he thinks we aren't looking! The card also features the little dachshund, Oskar, who first made his debut in our cards a few years ago.
Tadaa!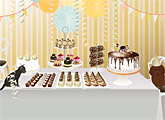 We have also been working on a number of other cards, including cards for Father's Day and US Independence Day which will be added to the site soon. Another long-term project has been a card inspired by Greek mythology and the constellations for our many dog fans, which I am very excited to launch soon.