Postcarden
offers cool cards that you can grow and eat!
"Combining gift and greeting card, Postcarden is a fun and simple pop-out card that transforms into a mini living garden."
Currently there are 3 designs. Below is one of them.
We have added two new cards to the site in celebration of Easter and Spring. With Easter bunnies, fluffy little chicks, beautifully painted Easter eggs and a dash of humor, "Carnival of Colors" couldn't say Easter more clearly. I confess bunnies and chicks were making their appearance even in my sleep as I was working on choreographing the animation to the energetic music of Saint-Saens Carnival of the Animals:) And who knows, this card might even inspire you to get busy painting some Easter eggs of your own this Easter.
Carnival of Colors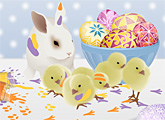 Weeks of work went into painting the stained glass window that forms the backdrop to the second card titled "Easter Lily" and originally was painted for the card "Ave Maria". In this variation, an Easter Lily lifting its head in full bloom in the light streaming from the window couldn't be a more fitting symbol for Easter.
Easter Lily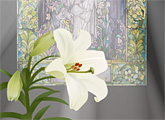 Here is a complete collection of our
Easter cards
.
Happy Easter!
We are giving away five FREE memberships each month starting this April!
Here is how to enter the giveaway.


On the 1st of every month, we will create a giveaway post on the Ojolie Fan Page on Facebook.

Become a fan, if you have not already.

Leave a comment on the post.

At the end of the 7th day, we will randomly select 5 winners for the monthly giveaway!

Multiple comments are OK but will be counted as 1 entry only.
If you are a member already, you can renew the membership for 1 more year or give the free membership away as a gift.
Visit our
Fan Page
on Facebook to enter the 1st giveaway now!
This giveaway is also listed at All Things Bloggy.