We have added two newecards to our site created with Mother's Day in mind, but both cards are also suitable for other occasions such as birthdays and general greetings.
The first card is titled "Cherubs" and features Raphael's famous cherubs deep in thought until they find a special way to send a message. We thought all mothers could use a few additional angels in their life from time to time, not to mention Peonies and Snowball Virburnum painted in lovely detail. And yes, it is almost ridiculously sweet. Sweet with subtle humor that makes it okay to send a card with little adorable cherubs. For almost any occasion.
Cherubs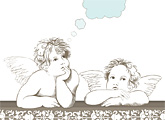 The second ecard titled "Picnic" is a variation on the card "Al Fresco" adapted for Mother's Day, birthdays and other occasions. As spring brings so much new life and renewal, this card celebrates the day with a picnic on the river bank while the swans and ducks are parading their little families.
Picnic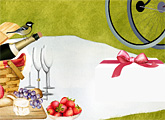 Here are all our
Mother's Day eCards
.
Happy Mother's Day!