We have released a new upbeat and festive card for St. Patrick's Day, celebrating the global nature of the holiday. On St. Paddy's Day the whole world is literally green!
A Greener World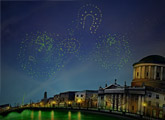 Here are our other
Saint Patrick's Day ecards
.
We have a lot of other cards in the works that we will be releasing shortly, including cards for birthdays, Easter and Earth Day.
In the meantime we wish you all a festive and very happy St. Patrick's Day!