Valentine's Day is just a few days away and we recently added two new cards to the site. Both are great for sending to just about anyone on Valentine's Day, as well as anytime in general.
"Fortune Cookie" features an encore of the extremely popular rats that made their debut in our Christmas card a few months ago. This time they are whipping up some fun in the kitchen, making fortune cookies so you can include your very own fortune cookie message!
Fortune Cookie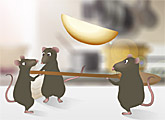 Growing up we used to look forward to the first little snowdrops announcing that spring was finally closer; we would pick them, dry them in a book and when Valentine's Day came around we would include them in traditional delicate paper cut greetings for friends and classmates. "Messengers of Spring" takes this tradition and brings it to you as an ecard - so now you don't have to wait for the snowdrops to appear or fiddle with delicate paper cuts, unless of course this card inspires you to!
Messengers of Spring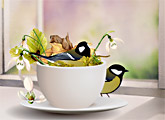 Here are our other
Valentine ecards
.