Although summertime is a slow time for sending cards, we usually use this time to get serious creating cards with snow, glitter, Christmas trees and the joys of the fall and winter holiday seasons. Our latest two cards were therefore a pleasant deviation, bursting with late summer energy and cheer. These cards are the first in a series of cards we will be adding that are short and to the point for casual everyday greetings.
"Summer Painting" is about one of my favorite past times during summer - finding a nice spot in the shade of a tree in the garden with a cup of tea and painting the blooms of the season.
Summer Painting
"Shells" is inspired by treasure from the ocean and has a scrapbook feel to it.
Shells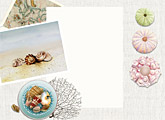 Both cards are suitable for almost any occasion. They also allow you to include a photo and are free to send.
Enjoy!