We have added a new card for Fall and Thanksgiving called "Leaf Peeping". I wanted to capture the bold color display of changing leaves with an artist's eye and translate it into an experience you can enjoy long after the colors have turned from their brightest to the muddled browns of late Fall. I hope you can almost feel the crisp air, the bright sun on your cheeks as you watch this card. Use this card for almost any occasion, such as Birthdays, sending Thanks and Sympathies, well anything really!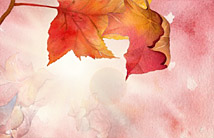 Leaf Peeping
Here are all our Thanksgiving eCards.
We will be adding another card for Thanksgiving in a few days. We have many more surprises in store for the rest of the year and look forward to sharing it with you.