Sometimes it is hard to find just the right words to express yourself. Luckily flowers tend to speak volumes - and occasionally they also sing as you will see in our newest ecard "Flower A Capella".
This vibrant and happy card is perfect for sending to your mother as well as all the wonderful moms you know on
Mother's Day
. And even after Mother's Day has passed, I can think of many other occasions I would send this card for.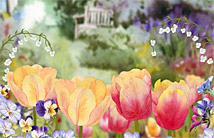 Flower A Capella
Although Mother's Day is still a week away, you can write and schedule ecards now for sending at a specified future time and date - a great way to make sure you don't forget to get your cards out in time.
We will be adding one more new card in a few days, in the meantime enjoy!