Are you tired of having to pick a unique birthday card in a heap of similarly-looking cards in a traditional store? If you have a lot of tech-savvy friends, your choice for greeting cards is even more limited. If you want your friend to scream in surprise truly because they love your card, you have to find some kind of greeting cards that is not too traditional and old-fashion. How's about
animated ecards
? Do you know that more and more people opt for ecard instead of traditional cards these days?
Why Should You Choose an Animate Ecard?
First of all, it is convenient. You can just sit in the comfort of your chair and pick from millions of ecards online. Surely you will find the most appropriate card for your friends. Online cards are animated cards as well, so most tech-savvy people will love them and find them interesting.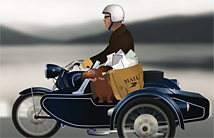 When choosing an animated ecard, make sure you keep in mind what personality the other person has and how would he or she love the ecard to be. You should include with every animated ecard a personal message written especially for that person to show your care and sincerity towards that friend.
Ecards are not only for friends, they are for lovers, family and colleagues as well. Whether it is Christmas, New Year, Thanksgiving, birthday, Father's Day, Mother's Day or Valentine's Day, you can always find the most suitable ecards to send to your beloved ones. Our ecard service is only $12 for a 1 year membership or $18 for a 2 year membership, and you could even send corporate cards if you own a small business.